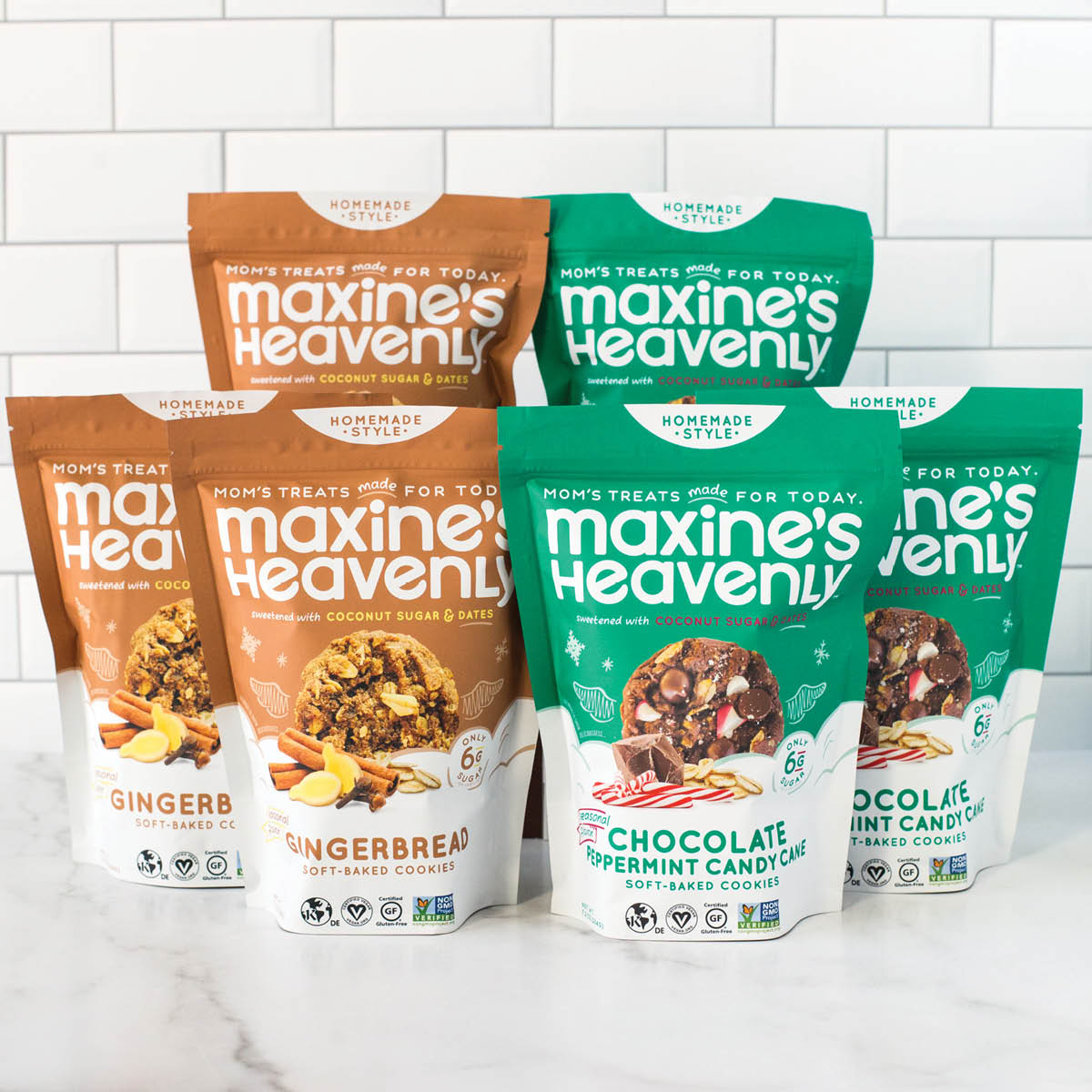 Clean label, low sugar cookie company introduces seasonal options for health conscious consumers
Los Angeles, CA, 2020-Nov-12 — /EPR FOOD & BEVERAGE NEWS/ — Maxine's Heavenly, a Los Angeles-based company that makes decadent but better-for-you cookies for the sugar conscious consumer has released two limited run seasonal flavors to its growing line-up of products. Gingerbread and Chocolate Peppermint Candy Cane cookies are now available through the end of the year (or while supplies last).
Over the years, the  brand has seen growing success with their other seasonal flavor, Pumpkin Pecan Spice. This year offered the opportunity to expand the seasonal selection, especially as more and more consumers look to avoid traditional sugary treats over the holiday season. The addition also offers consumers a broad range of seasonal gifting bundles for those "tough-to-shop-for" family members and friends with particular dietary needs.
These new products offer the classic ginger and peppermint flavors consumers crave, but are:
Made with lots of oats, a healthy carb that keeps you fuller longer.
Made with unrefined sugars (coconut sugar and dates).
Lower sugar than traditional cookies and most other brands.
They also work well for a variety of diets, which makes them great for parties and as holiday gifts. All Maxine's Heavenly products are certified gluten free, vegan, kosher, and non-GMO.
"We think we really knocked this out of the park" said Maxine's Heavenly CEO, Robert Petrarca. "My team keeps telling me that they are our best flavors yet. We all need a little extra comfort this year, so I'm excited to offer some timeless classics with the healthy Maxine's Heavenly spin our consumers have come to expect."
Gingerbread and Chocolate Peppermint Candy Cane are being released strictly through e-commerce channels and can be purchased at MaxinesHeavenly.com as well as on Amazon.
About Maxine's Heavenly: Maxine's Heavenly homemade style, soft-baked cookies are mom's recipe made so-much-better-for-you. Made for more to enjoy, Maxine's Heavenly cookies are certified Gluten-Free, Vegan, Kosher, Non-GMO, and naturally sweetened with coconut sugar and dates. Maxine's Heavenly cookies was voted Best Snack of 2018 in Health Magazine. Learn more at maxinesheavenly.com.
###
Media contact:
Rachel B. Carmichael
Maxine's Heavenly
424-261-7625
rachel@maxinesheavenly.com