The Chicago Steak Company is very pleased to announce a great selection of gift specials for the holidays and a very special price on shipping, 100% free of charge! Special pricing along with free shipping will really help take some of the pain out of gift giving these holidays.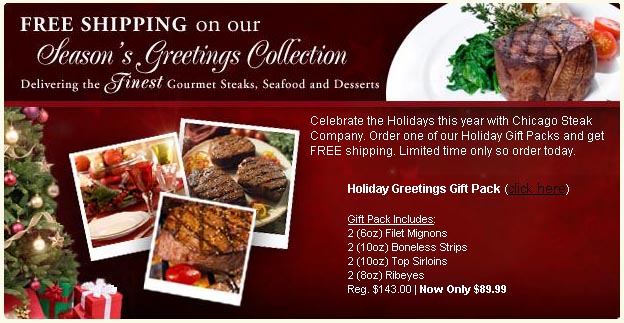 Holiday Greetings Gift Pack:
Bring home the Holidays this year with this generous combination of delicious gourmet steaks.
2 (6oz) Filet Mignons
2 (10 oz) Boneless Strips
2 (8 oz) Top Sirloins
2 (8 oz) Ribeyes
$89.99 and Includes Free Shipping
Seasons Greetings Gift Pack:
Welcome the Holidays this year with mouthwatering steaks and gourmet burgers.
4 (5 oz) Filet Mignons
4 (5 oz) Top Sirloins
8 (8 oz)) Gourmet Burgers
$84.00 and Includes free shipping
Santa's Special Gift Pack:
Show someone you care with this collection of our most popular gourmet steaks.
6 (7 oz) Filet Mignons
6 (6 oz) Top Sirloins
6 (8 oz) Boneless Strips
$149.99 and Includes free Shipping  
To take advantage of these Best Steak specials visit the Chicago steak company page for Steak Specials