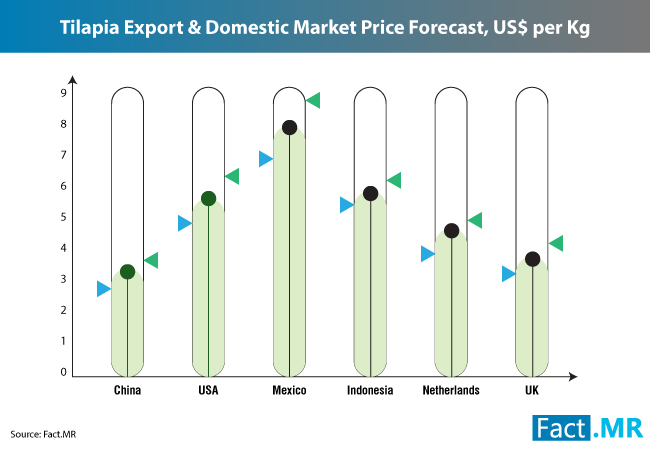 DUBLIN 2, Ireland, 23-Oct-2018 — /EPR FOOD & BEVERAGE NEWS/ — Fact.MR, a leading research firm that tracks markets in over 150 countries, announces the launch of its recent study that offers an in-depth analysis on the global tilapia trade. The 170-page report is a comprehensive source of insights that tracks the production and consumption of tilapia in key markets, including the US, China, Canada, France, UK, and Spain. The Fact.MR study is available for direct purchase; readers also have the option of requesting a sample of the report.
Sample available at https://www.factmr.com/connectus/sample?flag=S&rep_id=649
The Fact.MR study offers in-depth analysis on the key factors influencing tilapia sales. Key insights from the report:
China, the largest producer of tilapia, accounted for nearly 28% of global production in 2017
Production is increasing in Egypt and Indonesia – collectively, these two markets accounted for over 36% of global production in 2017
Declining consumption in key markets are putting strains on profit margins of key players
Low profit margins are influencing tilapia farmers to focus on other specialty fishes, such as pangasius
The sluggishness in US tilapia consumption is offset, to a certain degree, by increase in Russian Federation and increasing domestic consumption
Tilapia exports remain concentrated in the frozen variety – over 80% of total US demand for tilapia was for frozen variants
Sensing the weak demand in US, Asian producers are focusing on increasing their footprint in domestic markets
China: The World's Largest Producer of Tilapia 
China remains the single largest supplier of tilapia to the world, however, it is facing increasing competition from other Asian countries, including Bangladesh, Vietnam, Egypt, and Indonesia. Faced with declining demand in the US, Chinese producers are focusing on increasing their footprint in Africa. Further, rising domestic demand in China has also offset some of the weakness encountered due to declining consumption in the US.
Tilapia Production by Key Countries ('000 KT)
2015 A
2016 A
2017 A
2022 F
2028 F
Greater China
1,850
1,930
1,989
2,313
2,580
Indonesia
XX
XX
XX
XX
XX
Egypt
XX
XX
XX
XX
XX
Philippines
XX
XX
XX
XX
XX
Vietnam
XX
XX
XX
XX
XX
(A: Actual; F: Forecast)
Speak to the authors of this report for more information on redacted figures.
United States: The World's Largest Consumer of Tilapia
Tilapia sales in the US are witnessing a decline, after gaining popularity as a low-cost seafood option for Americans. Although tilapia is still one of the popular seafood varieties in the US, the overall decline in frozen food products is rubbing off on tilapia as well. The escalating US-China trade war can have an impact on tilapia sales in the US, as China is one of the largest exporters to the US. According to the Fact.MR study, sales of fresh/chilled tilapia fillets and whole tilapia is likely to witness a decline in the US.
Tilapia Market: A Highly Fragmented Landscape 
The tilapia market remains highly fragmented, with tier III companies accounting for over 50% revenue share. Consumer preference towards fresh tilapia is met through domestic production, especially in China and Asian countries, especially in countries where consumption is less than production. Further, stringent regulations on the export of tilapia mean that small fish farmers rely on local sales.
According to the Fact.MR study, product diversification and compliance to regulations in developed countries are the key focus areas of Tier I and Tier II players. These players are also focusing on issues that are of paramount importance to their target audience, such as eco-labeling and low use of antibiotics.
The Fact.MR study on the tilapia market tracks the business and product strategies of the key producers, suppliers, and other stakeholders. The key companies profiled in the Fact.MR report include,
Baiyang Aquatic Group
Blue Ridge Aquaculture, Inc.
Global Fish
Guangdong Guomei Aquatic Products Co.
Hainan Sky-Blue Ocean Foods Co.
Hainan Xiangtai Fishery Co.
Hanjiang Evergreen Aquatic Product Science and Technology Co Ltd.
Hebei Zhongjie Tilapia Breeding Co. Ltd.
Mazzetta Company, LLC.
Northern Tilapia Inc.
Sunshine Tilapia Corp.
Til-Aqua International
Tongwei Co.
170 Pages, 48 tables, 94 figures, 50+ countries. Get a copy of the report now.
About the Report
"Tilapia Market Forecast, Trend Analysis and Competition Tracking – Global Review 2018-2028" focuses on prominent trends in the production and consumption of tilapia in key regions. The vital facets of the market including market drivers, restraints, opportunities, and threats have been diligently analyzed in this market. The report also profiles the business and product strategies of some of the leading players in the market.
SOURCE: EuropaWire